Seth Govind Das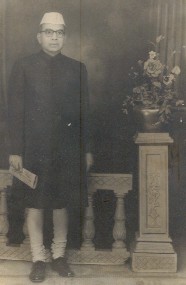 Seth Govinddas : 1896 – 1974
If Maharashtra takes pride on Lokmanya Tilak, Punjab for Lala Lajpat Rai, Bihar for Rajendra babu, Uttar Pradesh for producing leaders like Madan Mohan Malviya, Motilal Nehru, Jawarhar Lal Nehru, Gujarat for Sadar Patel then definitely Madhya Pradesh takes pride on producing Mahakoshal Kesari Seth Govind Das ji.
Being born as grand son to Raja Gokuldas, the leading merchant prince of Central Province, Govind Das ji, in course of life deviated from his parental lineage of supporting the British government and plunged into the Indian freedom struggle. Adhering firmly to the Gandhian Philosophy, he became a guiding light for not only the youth of Mahakoshal region but of the entire nation by being part of the national movement from 1920 till India's rise to independence in 1947.
He went to jail many times and was an active member of the National Congress party. It was here, that Govind Das ji conceived the idea of giving words to his thoughts. While remaining behind bars, in British India jails, for assisting in the party's work at regional level, he got well versed with all the available literature from politics to religion.
Kaka Sahib, as he was commonly known, rose to prominence when he represented the Mahakoshal region in the Council of State in the year 1923, before independence. Upon independence, he became the member of the Constituent Assembly, the body which wrote and approved the Constitution of India and helped India become a Republic. He remained life long member of Lok Sabha, the Lower House of the Indian Parliament after the formation of the Constitution and also Chaired the Lower House numerous times. Besides this, he was felicitated by members of both the houses during a joint meeting, on completion of 50 years of service to the Parliament.
His contributions to the field of Hindi Literature have earned him a place within well-known littérateurs of his time. His works have found place in the syllabus of various universities and colleges across the nation. These have passed through the critical eye of critically acclaimed writers of the time. For his contribution to the field of literature, he was awarded the 'Padma Bhusan' award by the first President of Independent India, Dr. Rajendra Prasad.
Besides this, Rani Durgawati University, Jabalpur (known as Jabalpur University then) awarded him with Doctorate for his literary contribution. While Government of Uttar Pradesh and Rajashthan Sahitya Academy also felicitated Govind Das ji for his contribution to the field of Hindi Literature. His contribution to Hindi literature is in various forms like drama (historical, social, and biographical), poems, travelogue and biographies. His writing bear clear mark to the people who touched his life whether they were simple and normal beings or national figures of the time.
His Childhood
: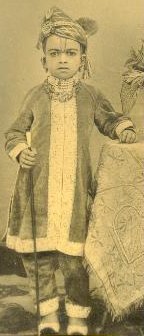 Seth Govinddas:Age 5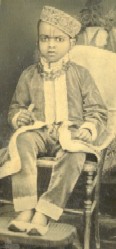 Seth Govinddas:Age 4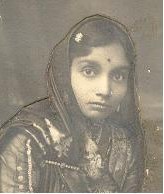 Rajkumari Bai
sister of Seth Govinddas
Govinddas ji was the only son to Diwan Bahadur Jiwan Das and his wife Parvati Bai, born on October 16, 1896, on the auspicious day of Vijaya Dashmi (Dussehra). He was the grandson of Raja Gokuldas, the merchant prince of Jabalpur. As he grew up, Raja Sahib used to take Govinddas ji with him on his tours and travels. During this period the practice amongst the elite was to arrange for education at home and accordingly Raja Sahib made suitable arrangements for his education by qualified teachers at his palace. Govinddas had a sister by the name of Rajkumari.
When Govind Das was only 8 years old, Dwarika Nath Sarkar, retired Professor of Government College, Jubbulpore was appointed to teach him. He taught Govind Das till his death. Then Rai Bahadur Pandit Bishambhar Nath Tholal, Retired Head Master Government High school, Cawnpore was invited as his successor. He remained as his tutor for few years. Even after Raja Sahib's death, Govind Das's education was conducted on proper lines. This is why he became so capable and well read although he had received no formal University education.
Marriage and children: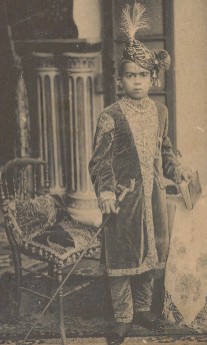 Seth Govinddas : Age 12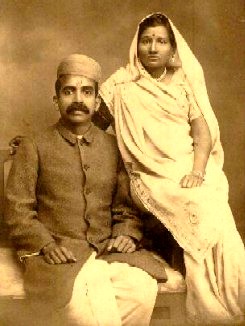 Seth Govinddas with
his wife Godavari Devi
Govind Das ji was married to Godavari Bai of Sikar Rajasthan in 1908. Lavish ceremonies were held at Sikar as well as Jubbulpore on this occasion. At the time of marriage, Govind Das was 12 while his wife was 10 years old. They had four children. Namely, Ratna Kumari Bai, Manmohandas, Jagmohandas and Padma. They had another son Shashi Mohan, but he died young. Though his wife was not educated but on persuasion from Govind Das ji, she received education. In course of time, she even participated in the freedom movement. Though parda system was prevalent during this period, despite the odds, she played significant role in the national movement while her husband was in jail. It was her devotion to national movement which earned her the status of being called as the adopted daughter of Bapu i.e. Mahatma Gandhi.
Next